Royal Barista Coffee | Your Coffee Emporium
Get To Know Our Coffee
Single-Origin Coffee
We sell coffee from different origins. Each origin has a unique flavor.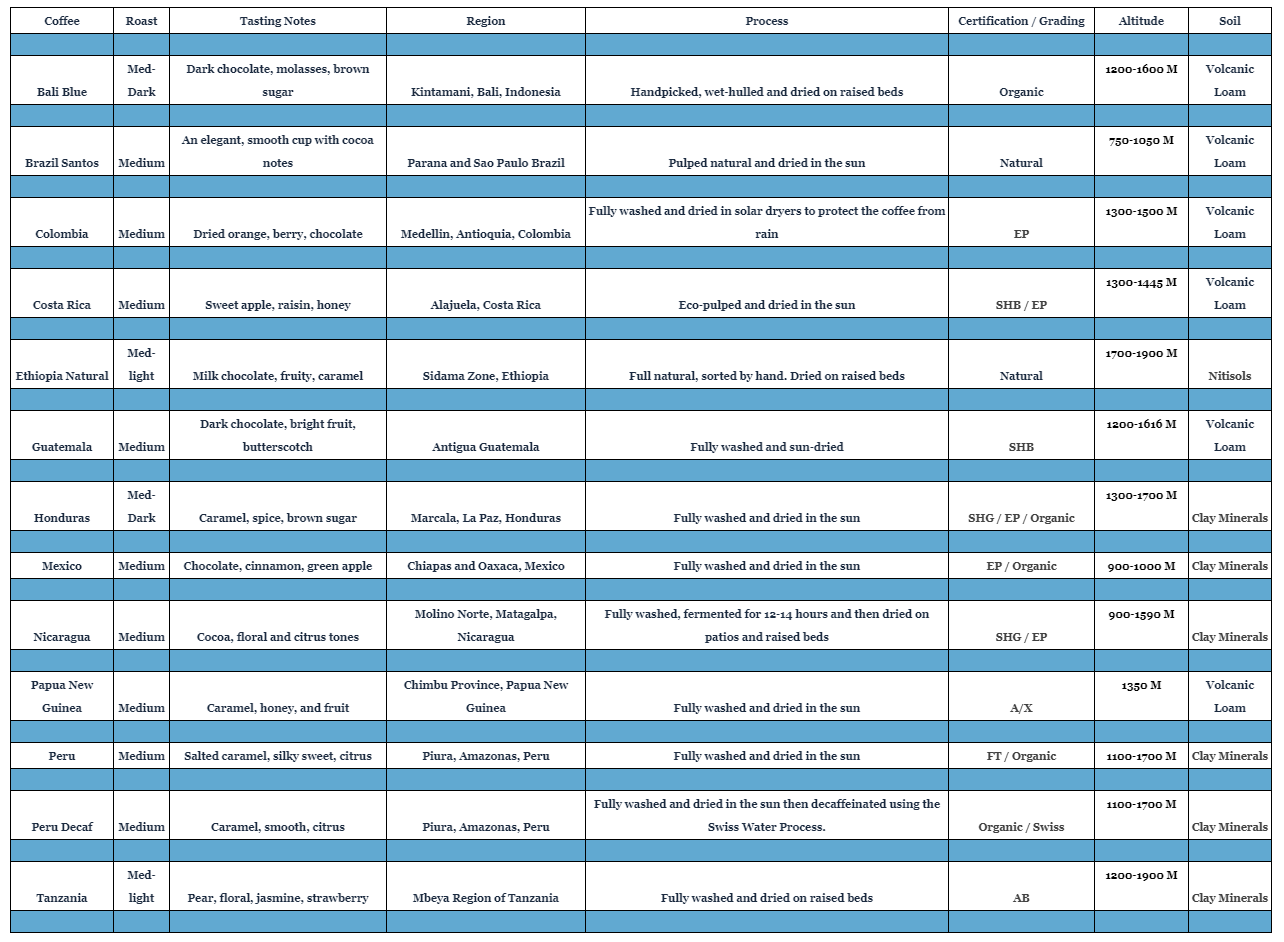 Blend Coffee
All of our coffee blends are medium to dark roast.

Flavored Coffee
All of our flavored coffees start as specialty grade single-origin coffee roasted in small batches to a smooth medium.  Each order is then carefully flavored with high-quality flavoring oils while still warm.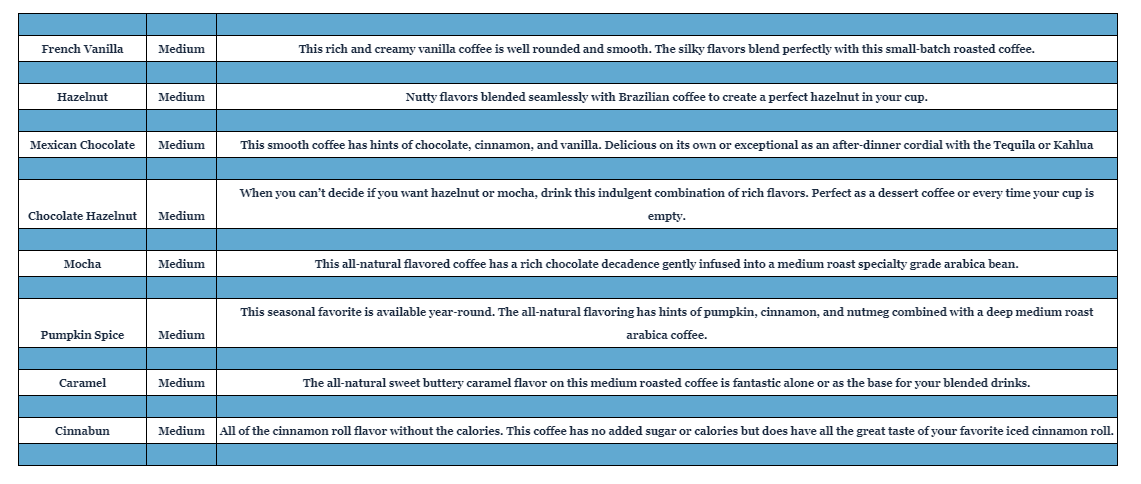 How Long Does Coffee Last?
Dried coffee, if stored properly, can last for months, and even years. The Table below represents the shelf life of coffee:

Commonly Asked Questions:
How to tell if Coffee is bad?
The best way to tell if coffee has gone bad is to use your sense of smell. If coffee has gone bad, the pleasant aroma will be gone, and with it, much of the taste. Using this coffee will not harm you, but the coffee will just not have as much flavor if the smell is gone. It may also lose its deep dark color and appear a lighter brown.
How to store coffee beans to extend its shelf life?
Coffee does degrade over time and it degrades faster depending on the surface area -- which means that the whole beans will keep longer than ground coffee. The best way to store these beans is to place them in an air-tight container in the freezer. You should grind fresh only the amount you plan to use that day to avoid unnecessary exposure. Storing coffee in this way will keep out moisture and other contaminants.
How to store ground coffee to extend its shelf life?
The best way to store ground coffee to keep it fresh longer is by storing it in your freezer immediately after use. Storing coffee in the freezer does not freeze the coffee, so it is always ready for use without any defrosting.
Our Decaf Coffee
Our decaf coffee is decaffeinated using the Swiss Water® Process. This is a clean decaffeinating method, which uses 100% green coffee extract and carbon to filter the caffeine out. This method ensures only caffeine is removed to keep the original quality of the beans intact.
Is Our Coffee FDA Approved?
Yes, ALL our coffees on offer on our shoppe, www.RoyalBaristaCoffee.com, is FDA approved. 
 Frequently Asked Coffee Questions
What farm does your famous brand coffee come from?
We source the beans from many tiny family farms. Some at high elevation with shade grown coffee fields that flourish on the edge of the mountains and some at medium elevation with full sun. The workers hand pick every coffee cherry, and hand wash them too. Matter of fact, they do it all by hand right down to the drying of the beans in natural sunlight with beans spread over wooden planks. The same way it was done hundreds of years ago, an old world method. No automated picking machines or careless processing. Hand selected beans, among the best anywhere in the world. We are sure you can not get coffee of this quality for the price we offer it anywhere else. We focus on environmentally friendly processing that is good for the surrounding habitat.
What is the No. 42 blend?
It's a single origin coffee from Costa Rica. A blend commonly means a variety, large or small, of coffee beans from different locations around the world. These single origin high grade coffee beans are loaded with quality. They are much better than any cheap blend. The term No. 42 actually came from trial and error roasting, where the 42 was our 42nd trial roast for Old Chicago Coffee's original. Many of the beans were in fact blended while others were single origin. The word 'blend' just kind of stuck. The difference between the numbers were the farms the beans originated from. The 42nd roast was the winner by far, the coffee was unreal. Rich, bold and full of flavor, just what we were looking for. We stopped there, we had our farm that would supply all of our No. 42 brand coffee beans.
How much coffee should I use in my coffee maker?
The most common coffee makers are 10 cup, 12 cup. Some smaller machines that are popular today are 5 cup or less, but the best selling auto-drip coffee makers are still 10 and 12 cup. There is a slight variation from one manufacturer to another, where a 12 cup pot by one company may be 60 ounces, and a 12 cup coffee by another may be 72 ounces. Most traditional coffee cups are 6 ounce, so that's why they make them in those sizes. Most coffee companies will recommend 1 to 2 tablespoons of coffee for every 6 ounces of water where you adjust to taste.
With this in mind there's an easier way. If you have a 12 cup coffee maker, we recommend starting with about 1.5 tablespoons per cup. If you like your coffee with stronger flavor, use 2 tablespoons (adjust to taste as always).
Because our coffee is very fresh and offers bold flavor, you probably do not need 2 tablespoons for 6 ounces of water. When coffee is old, you do need to add this amount of coffee grounds, since it loses flavor. Coffee purchased from a grocery store is often 3 weeks to 2 months old before you get it. Ours is from the same week you order, quite possibly the most fresh coffee you have ever had.
I wanted to order but the coffee I want is sold out, is it coming back?
Yes, we will have your coffee soon and you can still order now if you wish to be among the first in line for future shipments. Our coffee is sold out a lot because it is premium coffee at a wholesale price. When it comes in we start roasting and shipping, but it sells out fast. From time to time, we sell every type of coffee we offer before the next shipment arrives, so supply is low and demand is high.
We are working on getting more coffee with each shipment, but we can only bring in what the farm can produce. If you order now, you are guaranteed to beat the rush when it comes back in stock since your coffee will be the first to ship once the new shipment arrives and we start roasting.
These coffee beans are perfect!  What kind of coffee roaster do you use to make the coffee I buy?
We have used different roasters, and made for us exclusively. No one else roasts coffee the way we do. The ROASTER is part of the great taste, it's not just the beans that make our coffee so good.
I am looking for decaf ground coffee, but I have not been able to find it on your site, do you offer decaffeinated coffee?
Yes, we do. Just search for decaffeinated in our search box.
I have heard that your coffee and the beans are to die for. Can I buy a bulk amount for home roasting?
We now offer green coffee beans in 2.5 pound packages. Our coffee sells too fast so we only offer beans in small amounts. 
How long is coffee good for? Does coffee expire? How to make it stay fresh longer?
That depends on what type of coffee you have. All coffee should be stored long term between 50 and 70 degrees Fahrenheit, at about 30 to 50 percent humidity. Keep them in a dry place away from water and sunlight. Roasted coffee beans should be kept in an air-tight container, as well as ground coffee.
You can store roasted coffees without much flavor loss for about a year unopened, or 2 years, in the freezer. Coffee is still good past these dates if it is kept properly, but flavor fades away quickly over time.
Once you open roasted beans or ground coffee, you should plan to use it up within a week for the best flavor. That is why it is always best to buy small amounts instead of 5 or 10 pound packages.
 How long does it take orders to ship?
All paid product orders are shipped after 3 to 5 business days, and are shipped via USPS ground. This does not include the delivery times as it would depend on the courier.
Please note that our coffee production (roasting) team may take up to a maximum of 5 business days to ship out orders.
DO WE CHARGE ANY SALES TAXES WITH OUR COFFEE PRODUCTS?
**NOTE: We charge sales tax on coffee product orders shipped to Illinois addresses ONLY. Customers based in Illinois will be assessed the Illinois Sales Tax.
Otherwise, NO, sales tax does NOT apply onto our coffee products for the rest of the USA; we do NOT charge any sales tax to anywhere else in the USA.